OKG New Vision Noose Heavy Duty Bike Locks
Securing your bicycle, moped, scooter and motorcycle with the OKG New Vision Noose Chain Lock from NVSMART is both safe and convenient
Consumers have lots of choice for two-wheeled vehicle locks. But the traditional combination lock, folding lock and cable lock always have weakness. Combination locks are basically for use when you have to open an enclosed area frequently and you are afraid that you'll forget or lose a key. But most combination locks can be opened in a few seconds by finessing the lock, and they are all susceptible to brute-force attacks.
Folding locks slightly more fiddly to use than either a U-lock or a chain lock, but it takes a little bit longer to unfold. And they're less likely to function as well after a vigorous attack. Damaged rivets or bent plates will stop it folding up properly! Most importantly, the rivets are susceptible to attacks with drills or bolt cutters.
A cable lock is an open invite to casual thieves with common hand tools to steal your bike. Cable locks can be defeated by small bolt cutters in no time flat, a tool that is easily carried in a small backpack. U-locks are more secure than cable bike locks. A (good) U-lock is much harder to defeat, especially if your lock up is on point.
A cable can be suitable in conjunction with a good U-lock to secure your bike. More suitable is a chain, like the OKG security chain which can't be defeated by most anything shy of an angle grinder.
The Lock-chain combination is an excellent choice when it comes to securing your bike, moped, scooter and motorbike. Its flexibility means the lock-chain combination is very convenient and offer many ways of locking your bicycle to fixed objects. A bike that is secured in this way cannot simply be picked up and carried away – which is a real security advantage. the OKG New Vision Noose Chain Bike Motorbike Lock is Your Choice!
Trusted Security
Strong & Security Chain

OKG Chain lock not only relies on its modern and shapely design, but also has a 3T boron MANGANESE STEEL chain for extreme strength, Narrower inner width of individual link prevents bolt cutters, bolt croppers and leverage attacks.

Anti-rust U Shackle

Sophisticated structure that includes a double deadbolt locking mechanism to the lock body which against brute force.

The special structural design optimizes the endurance performance and it can work normally even under the low temperature of minus 20 degrees.

Key Safe Customer Care

two Brass user-friendly reversible KEYS with better ergonomics design to reduce torque and keep them from bending or breaking.

each key provides coded key number for further customer support.

Hook-n-loop Fastener Design

Durable, weather-resistant, highly flexible embroidered sleeve with hook-n-loop fastener allows compact coiling and protects bike, motorbike surface
Protect Your Belongs
Recommendation
If you've spent a lot of money on a high-quality bicycle or Motorcycle, please don't skimp on safety or theft protection under any circumstances. The NVSMART OKG New Vision Noose Chain Lock offers very good protection and is particularly suitable for a high risk of theft area, such as in major metropolitan areas and all day & overnight on college campuses, suburbs, rural areas.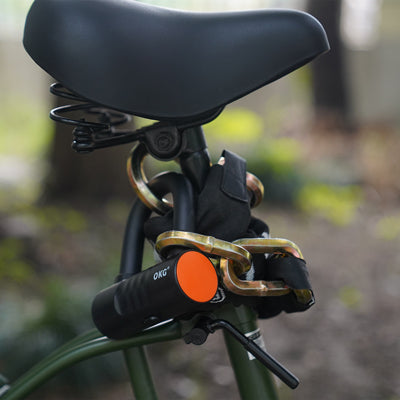 Usage
Excellent protection where the risk of theft is high.
Recommended for protecting high-value two-wheeled vehicles.